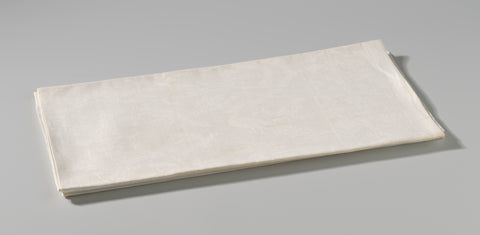 Tablecloth with a hunting scene, anonymous, c. 1650 Canvas Print
Tablecloth of linen damask with a hunting scene. Midfield: the symmetrical, in width three times repeated pattern shows three scenes: 1 in the middle a tree and a hexagonal fountain, around it animals that are taken into view by a hunter on the lower side. The fountain is made up of two dolphins, which carry two tazzas; on sides a unicorn and in the air many birds. 2 To the middle gallops an amazon who holds a falcon on the hand. She is dressed according to the fashion of 1640/60: wide cleavage, low haircut and wide, short puff sleeves. On either side overhanging trees. 3 A hunting lodge in a forest, in which a hunter blowing on a horn is a fox on the trail. Furthermore, a deer that flees from dogs. After this, scene 1 repeats itself. Standing edges: doubled and separated by a line, symmetrical pointed oval tendrils with spiral branches, which end in flowers, between which some birds; outside of it wide block edge.
  100% Made In America

  Next Day Shipping Available

  100% Money Back Guarantee

  Free Shipping On Orders Of $150+

  Use Shopify Pay to break the price down into 4 easy payments!
Usage Rights
Select Your Size