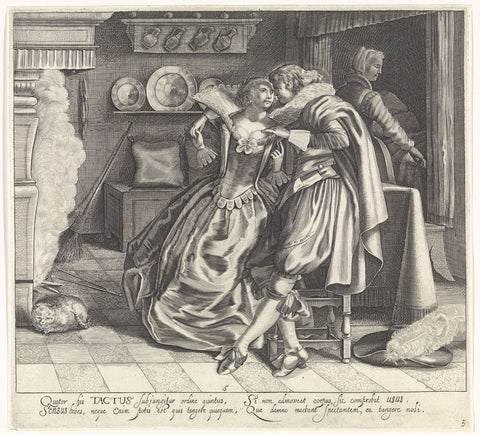 Tactus / The Feeling, Cornelis van Kittensteyn, 1620 - 1652 Canvas Print
In a room sits a loving couple by the fire, dressed in fashion from about 1620. The man has put his right arm around the lady's shoulders and touches one of her breasts with his left hand, while the lady looks at him. She wears a gown with cleavage and a large raised lace collar. At the fireplace there is a cat and at the back right the bedstead is made up by a servant. Below the image two columns with Latin text. The print is part of a series of prints about the five senses.
  100% Made In America

  Next Day Shipping Available

  100% Money Back Guarantee

  Free Shipping On Orders Of $150+

  Use Shopify Pay to break the price down into 4 easy payments!
Usage Rights
Select Your Size