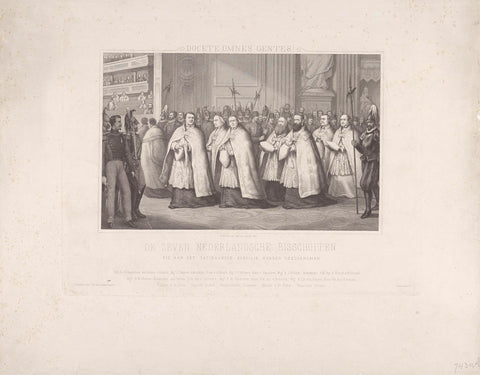 Dutch bishops at the First Vatican Council of 1869-1870, Edouard Taurel, 1870 Canvas Print
The seven Dutch bishops present at the First Vatican Council held in Rome from 8 December 1869 to 20 September 1870 during the pontificate of Pope Pius IX. From left to right: Mgr. A.J. Schaepman, Archbishop of Utrecht, Mgr. J. Zwijsen, Bishop of Den Bosch, Mgr. G.P. Wilmer, Bishop of Haarlem, Mgr. A.J. Pluijm, apostolic vicar of Constantinople, Mgr. H.W. Steins-Bisschop, apostolic vicar of Calcutta, Mgr. P.M. Vrancken, apostolic vicar of Batavia and Mgr. H.J.A. van Ewijk, apostolic vicar of Curaçao.
  100% Made In America

  Next Day Shipping Available

  100% Money Back Guarantee

  Free Shipping On Orders Of $150+

  Use Shopify Pay to break the price down into 4 easy payments!
Usage Rights
Select Your Size