Pet Portraits
No need to hire a professional pet portrait photographer. Our gallery-quality printing technique can turn iPhone photos into custom pet portraits in a matter of minutes. Our custom cotton blended canvas and water-resistant inks bring any pet picture to life with colors that pop. Stretched onto a handmade frame, our pet portrait canvas prints are crafted knowing how much you love your furry friends. 
Our favorite photos show the your pet's personality. We've seen everything from superhero and presidential pets, to beautiful portraits honoring the memory of your pet. Although pets are only in our life for a short period of time, they bring so much joy to every moment. Pet portraits on canvas prints will carry on this joy for a lifetime. 
Since our canvas prints are full of deep colors, they are perfect for dogs, cats, horses, and more. The affordability of our canvas prints means you can order a custom portrait and have more money for pet toys. Simply upload your photo and we will turn it into a gallery-quality.
How To Capture The Perfect Photo of Your Pet
The best pet portraits are made from close-up photos or pictures of your pet. Be sure to center your pet's face in the middle of the canvas on our online designer. For clear-quality canvas prints, set your camera settings at a high pixel ratio. Changing your camera settings will make sure your pet's portrait is printed in super high-definition.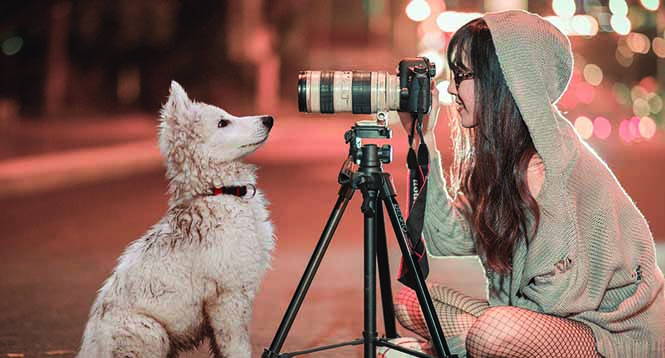 A pet portrait is a perfect way to honor any pet. They make for a great center piece for any room and also make a perfect gift. Getting to share the inspiration and story behind the photo brings joy to the conversation.
Eye Level and Centered
Getting a great photo of your pet can be tricky. Get down to eye level with your pet to get the best angle. Another challenge can be getting your pet to hold still for the picture. A great solution is to hold a treat or your pet's favorite toy above the camera. This will direct their attention to the camera.
Taking the shot from overhead. Your pet's cute face deserves to be the star of the show. The best pet portraits are taken head-on.

Make sure the whole face is visible. Be sure not to crop your pet's ears out of the photo.
Also, use your camera's burst setting to take multiple photos at once in case they are moving quickly. This will give you many photos in your camera roll to choose from.
Use Natural Lighting
As with most photos, it is important to have natural lighting. If shooting inside, white lighting is more optimal than yellow light. If shooting outside, aim for the middle of the day when the sun is high in the sky. When outside, also position the photo to take place with the sun behind the camera. This will help to minimize glare and get the best photos.
Avoiding Blurry or Dim Photos
To avoid a blurry and dim photo there are a couple of tips to follow. First, make sure your camera lens is not smudged. If it is, use a fine cloth to gently wipe the smudges away. 
Secondly, set your camera to a high pixel setting. Generally speaking, the more pixels your photo has, the higher quality it will be when printed.
A third tip we suggest is to use auto-focus on your camera. On all modern cameras, including smartphone cameras, you can lock the focus. This will make sure that their face comes through clearly to help avoid blurry photos during the shoot.
100% Money-Back Guarantee | Crafted With Care
Our team is made up of all types of pet lovers and pet parents. We understand how much your pets mean to you and how much you cherish the memories of your pet. We craft each pet portrait with the same love you have for your pet. If you are not happy with your print, let us know and we will make it right. We can't wait to print your "purrfect" pet portrait. 
Pet portraits on canvas are the best way to show your pet's true personality. Edit the photo to add color or a favorite quote. This is a great way to create a unique pet portrait. No matter what type of animal you have, there are many great options to create a personalized pet portrait. Add your pet's paw print to create an extra special pet portrait.
Customizing your pet portrait allows you to create wall art that stands out. Not only can you personalize it to the personality of your pet, but you can also add your own flair to it. Create a pet portrait in the style of your favorite movie. Maybe you want to create a western-themed pet portrait. These are both great ways to create a fun pet portrait. 
You can even create a collage of some of your favorite pet photos, or if you have more than one pet. Creating a collage is a great way to create a pet portrait if you have too many photos to choose from. Get started by selecting the photos you want to use. Then customize the portrait by adding text or writing. All that is left is to order your pet portrait.
What If My Pet Isn't A Dog Or A Cat?
Our custom pet portraits are perfect for pets of all sizes. We offer over 1,000 custom sizes ranging from hamster-sized to horse-sized canvas prints that can be created in just minutes. Our goal is to create a perfect pet portrait that leaves every pet owner grinning from ear to ear.
We've created custom portraits of dogs, cats, snakes, horses, birds, turtles, bunnies, mice, and more. No matter what type of pet you have, our gallery-quality canvas prints will make the pet portrait pop right off the canvas. Each of these pets has unique qualities that have brought us joy and comfort through the years.
What Size Should My Canvas Print Be?
Pet portraits are perfect for any size of canvas. Ranging from an 8" x 8" shelf-sized canvas print to massive 40" x 40" canvas prints, meaning that any size photograph will work. Our online canvas customization tool will recommend the best size of canvas print for your photo upon upload. Put simply, There is no specific size that is best for pet portrait canvas prints.
Although, depending on the resolution of the image and the size of the space where the canvas print will be hung. For larger pet portraits, an image with high resolution is preferred. For smaller prints, high and lower-resolution photos will work. If you need help picking the perfect size, reach out to our customer support team for any questions or help.
What Is The Turn Around On A Custom Portrait?
We ship 2-7 business days after the order is received. Our canvas prints can be shipped in as quickly as one day if Priority Production is selected at checkout.
If you need to get your canvas prints quickly, make sure that you select our Priority Production option before you checkout.
If you order before 3 PM EST, your beautiful portrait is guaranteed to be mailed the very next business day. With Priority Production, our team prints the canvas print the next day to send out via USPS or UPS. We offer the following shipping options:
UPS Ground: 2 Day ShippingUSPS Parcel Select Ground: 2-8 Day ShippingUSPS Priority Mail: 2 Day Shipping. These shipping times reflect the time it takes the outside shipping company to deliver the item once it has left our facility.
Where Are Your Pet Portraits Made?
Our pet portraits are 100% American-made. Our team works 24/7 to hand assemble gallery-quality canvas prints. Our custom cotton canvas blend is sourced from Austin, Texas. While our solvent inks are made in Kentucky, and our handmade frames are made with wood sourced from the southern United States.
Using a combination of handcrafted love and state-of-the-art technology, our technicians oversee every part of the printing process from the minute your order arrives. By employing American workers and using only American-made materials, we are able to produce high-quality and affordable canvas prints.
With an all-American made product and a team that loves pets just as much as you, a pet portrait canvas print is perfect for any pet lover. Cherish your time with your pet and show they are part of the family by creating a gallery-quality canvas print.