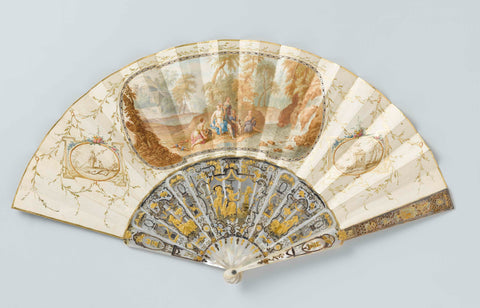 Folding fan with a paper leaf on which, in watercolor, a central medallion with Diana and her nymphs resting by a river, mounted on a frame of openwork and carved ivory with 'métal en quatre couleurs', anonymous, c. 1780 Canvas Print
The central medallion is filled with a particularly detailed painting of Diana, goddess of hunting, resting with her nymphs at the edge of a river opposite a waterfall. In the Netherlands, 'Diana resting with her nymphs' was a particularly popular theme from the 17th century onwards, which was often depicted not only in paintings but also on fan magazines (cf. tent.cat. C. Kammerl, Der Fächer..., Munich 1989, cat.nr.53, p.139). This is not surprising, since Artemis symbolized the chastity of the woman and is linked to marital love on this range as such. The medallions on either side are dedicated to (pastoral) love, with a shepherd's staff on the left, basket with flowers, doves, dog representing the (wedding) faithful, flat hat and lute; and on the right an altar with a woman's portrait above which two turtlenling pigeons, a litter filled with eggs with two birds, shepherd's staff and hat. The leaf is painted at the back with a medallion filled with two lovebirds, which hangs from a flower garland. We also find love symbolism in the frame. On the hand part is a couple who sacrifice a wreath of flowers to Eros. Above them hangs a braided love wreath or bridal crown. On either side of this performance, columns with entangled monograms(?) above which is a flower basket, flanked by sedentary women. The outer legs are decorated from top to bottom with a flower basket, shepherdess(?) with garland in hand, trophy with books(?) and on the hand part with a wedding altar with two burning hearts.
  100% Made In America

  Next Day Shipping Available

  100% Money Back Guarantee

  Free Shipping On Orders Of $150+

  Use Shopify Pay to break the price down into 4 easy payments!
Usage Rights
Select Your Size