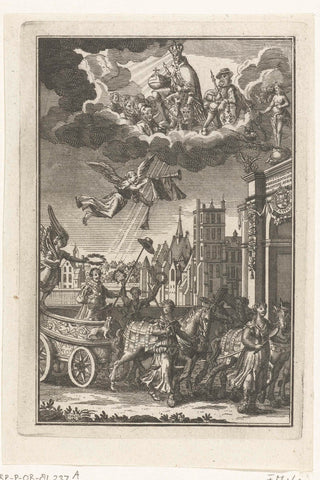 Frederik Hendrik drives in triumphal car into The Hague, 1629, anonymous, 1707 - 1709 Canvas Print
Allegorical triumphant entry of Frederik Hendrik through a triumphal gate in The Hague. Allegory in honour of the conquests of Den Bosch and Wesel by Frederik Hendrik in 1629. Triumph procession with the victory-crowned stadholder with the freedom lance standing in a chariot, the horses accompanied by the virtues of Justice (Justice), Strength (Fortitudo) and Prudence (Prudentia). In the air the Fame and the Nassausche Heldenhemel with William of Orange, Maurits, the German emperor, the French King Henry IV and Johan van Oldenbarnevelt. In the background the Binnenhof and the Hofvijver. The print includes a text sheet.
  100% Made In America

  Next Day Shipping Available

  100% Money Back Guarantee

  Free Shipping On Orders Of $150+

  Use Shopify Pay to break the price down into 4 easy payments!
Usage Rights
Select Your Size