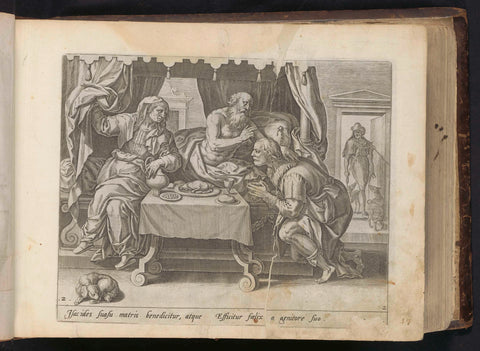 Isaac blesses Jakob, anonymous, Maerten de Vos, 1646 Canvas Print
The old and blind Isaac blesses Jacob, who kneels by the bed. With the help of his mother Rebekka, who sits on the edge of the bed, he disguised himself as his brother Esau to receive the blessing. In his neck and over his hands, Jacob wears the skin of a goat to look like his hairy brother. In the background, Esau returns from hunting. Below the performance a reference in Latin to the Bible text in Gen. 27. This print is part of an album.
  100% Made In America

  Next Day Shipping Available

  100% Money Back Guarantee

  Free Shipping On Orders Of $150+

  Use Shopify Pay to break the price down into 4 easy payments!
Usage Rights
Select Your Size