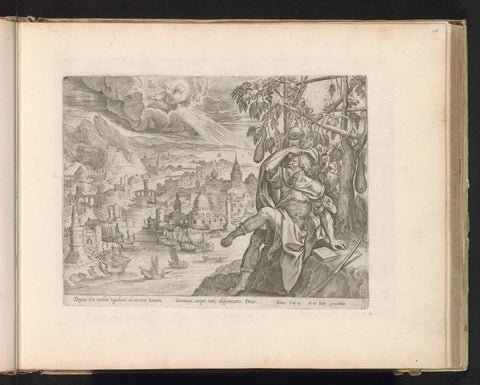 Jonah under de wonderboom, Antonie Wierix (II), 1585 Canvas Print
Jonah sits on a rock above the city of Nineveh and waits for God to destroy the city. God has grown a miracle tree for him so that he can sit in the shade. But the next day the tree is withered, the leaves hang limp, and Jonah is caught by the heat. He holds his cloak above his head against the blazing sun. Jonah is angry about the plant and the fact that God does not destroy the city. He speaks of it with God, who appears on the clouds. Below the performance a reference in Latin to the Bible text in Jonah 4. This print is part of an album.
  100% Made In America

  Next Day Shipping Available

  100% Money Back Guarantee

  Free Shipping On Orders Of $150+

  Use Shopify Pay to break the price down into 4 easy payments!
Usage Rights
Select Your Size