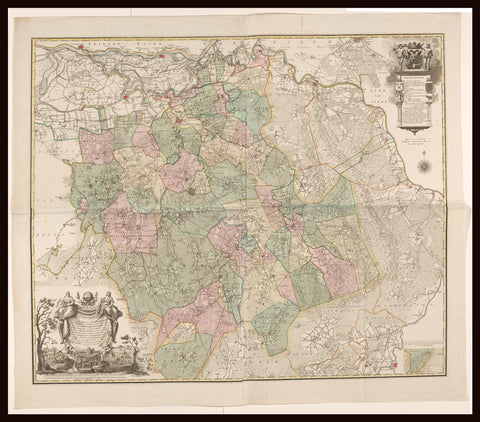 Map of Brabant, Cornelis of Baarsel, 1794 - 1797 Canvas Print
Map of Brabant, to which boundary lines have been added by hand, consisting of four parts. At the bottom left of the title cartouche with two scale sticks underneath: Scale of 4500 Rods Rhynlandsche Maal, being according to Professor Lulofs 1479 Roeden Rheynlands, an Hour going of 20 Hours in a Degree / Scale of 3000 S' Bossche Roeden. At the top right a cartouche with the legend. Above it the coat of arms of 's-Hertogenbosch, flanked by two wild men. On the left pillar of the cartouche the weapons of Peelland and Oisterwijk, on the right pillar the weapons of Kempenland and Maasland. At the bottom right a bet with a map of the area south of Lommel. The map has a degree distribution along the edges.
  100% Made In America

  Next Day Shipping Available

  100% Money Back Guarantee

  Free Shipping On Orders Of $150+

  Use Shopify Pay to break the price down into 4 easy payments!
Usage Rights
Select Your Size