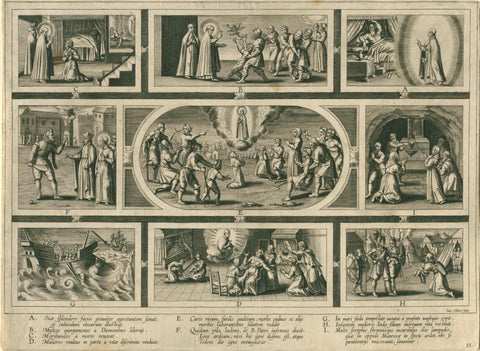 Miracles of Ignatius, Jan Collaert (II), 1610 Canvas Print
Nine miracles after the death of Ignatius of Loyola. At the top, Loyola's appearance heals the sick, exorcises demons and devils, and raises people from the dead. At the bottom, his appearance saves castaways, helps women in distress and revives a dead child. In the middle, he punishes disobedient youths, heals the lame and blind, and believers in Manresa use the oil of a lamp from Loyola cave to heal people. The print has Latin captions with references to the scenes in the print. The print is part of a fifteen-part series about the life of Ignatius of Loyola.
  100% Made In America

  Next Day Shipping Available

  100% Money Back Guarantee

  Free Shipping On Orders Of $150+

  Use Shopify Pay to break the price down into 4 easy payments!
Usage Rights
Select Your Size