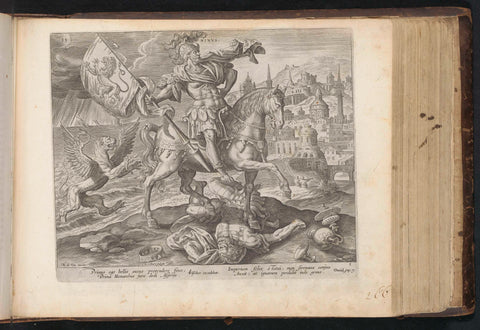 Ninus of Nineveh as the first king of daniel's vision, Adriaen Collaert, 1646 Canvas Print
Ninus, founder of Nineveh and notorious general, rides a horse, in his hand a flag with the image of a lion (Babylonia). The horse tramples King Oxyartes of Bactria. In the background a cityscape. In addition to Ninus, a lion with eagle wings emerges from the sea, a reference to a vision of Daniel about the rise of four kingdoms in the world. Below the performance a reference in Latin to the Bible text in Dan. 7. This print is part of an album.
  100% Made In America

  Next Day Shipping Available

  100% Money Back Guarantee

  Free Shipping On Orders Of $150+

  Use Shopify Pay to break the price down into 4 easy payments!
Usage Rights
Select Your Size