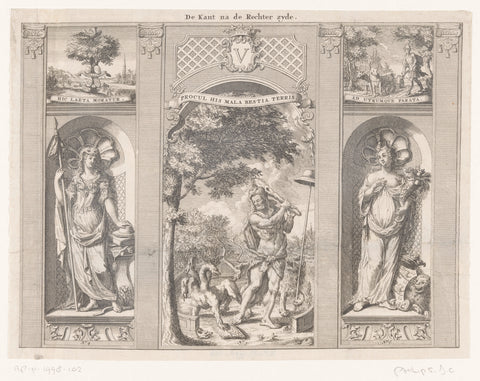 Personifications of Freedom and Friesland and Hercules drive Hydra out of a garden, Jan Caspar Philips, in or before 1734 Canvas Print
The allegorical representations placed on the right side of a temple that stood in Leeuwarden on 11 May 1734 in the midst of lit fireworks on the occasion of the arrival of the newlywed couple Prince William IV and Princess Anna, married on March 25, 1734. On the left above an oak tree with weapons of the four quarters of Friesland, below which a personification of freedom (No 4), in the middle Hercules drives the monster Hydra out of the Dutch garden (No 5), on the right above Jason with a plough and on the right under a personification of Friesland with a wall crown and the horn of plenty (No 5).
  100% Made In America

  Next Day Shipping Available

  100% Money Back Guarantee

  Free Shipping On Orders Of $150+

  Use Shopify Pay to break the price down into 4 easy payments!
Usage Rights
Select Your Size