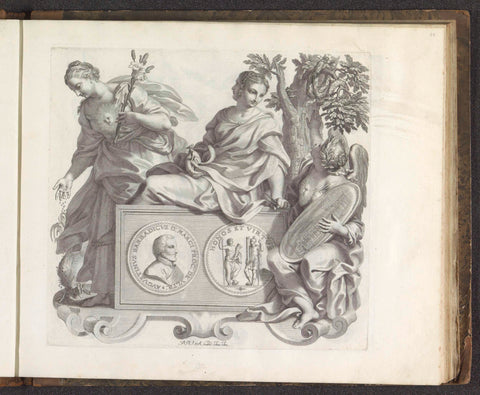 Portrait of Agostino Barbarigo and the Personifications of True Honor, Prudence and Sincerity, Robert van Audenaerd, 1673 - 1743 Canvas Print
Pedestal in the shape of a cartouche. On top a medallion with the portrait of Agostino Barbarigo on the front. On the back, Honor and Virtue. Around the pedestal three female personifications. On the pedestal Caution. She's got two faces and a passer in her hand. On the right the personification of Virtue or True Honor (Guida sicura de veri honor). It concerns an angel with laurel wreath in the hair and sun on the chest. She holds a shield bearing the temple of honor and the temple of virtue. She points to some war wreaths in an oak tree. On the left the personification of Sincerity: a lady with a lily in her hand and sun on her chest. She sprinkles grain eaten by a rooster. The print is part of an album.
  100% Made In America

  Next Day Shipping Available

  100% Money Back Guarantee

  Free Shipping On Orders Of $150+

  Use Shopify Pay to break the price down into 4 easy payments!
Usage Rights
Select Your Size