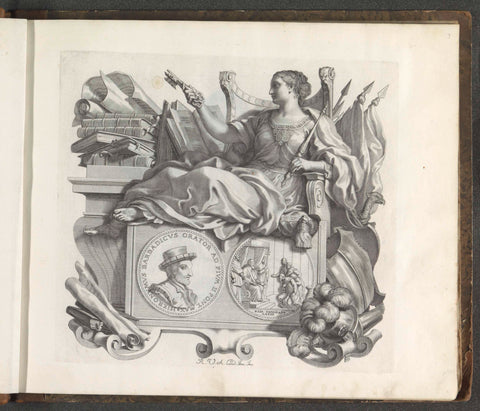 Portrait of Girolamo Barbarigo and the Personification of Authority, Robert van Audenaerd, 1673 - 1743 Canvas Print
Pedestal in the shape of a cartouche. On it a medallion with on the front the portrait of the Girolamo Barbadigo, spokesman of or orator at the time of Pope Pius II. On the back kneels a Venetian delegation for Pope Pius II. The front man has a hat in his hands. On the pedestal with medallion the female personifications of Authority or Prestige. She's sitting on a royal seat. The key and scepter refer respectively to spiritual and secular power. On the left are books and on the right there is armor. They refer to a spell of Cicero: Cedant arma togae, which is: Let the weapons give way to the learning. The print is part of an album.
  100% Made In America

  Next Day Shipping Available

  100% Money Back Guarantee

  Free Shipping On Orders Of $150+

  Use Shopify Pay to break the price down into 4 easy payments!
Usage Rights
Select Your Size