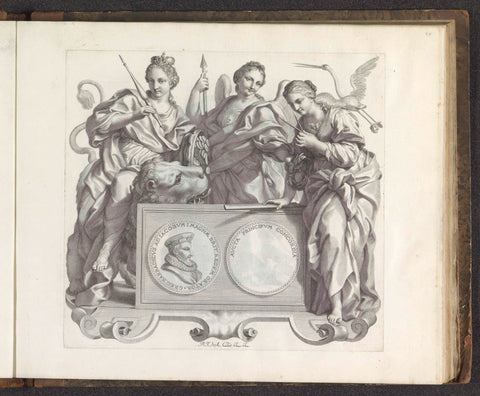 Portrait of Gregorio Barbarigo and the Personifications of Magnanimity, Virtue and Consideration, Robert van Audenaerd, 1673 - 1743 Canvas Print
Pedestal in the shape of a cartouche. On top of it a medallion with on the front the portrait of Gregorio Barbarigo, ambassador to England at the time of James I. On the back only the spell: Aucta Principum Concordia. Around the pedestal three personifications. On the left the personification of Magnanimity: a woman sitting on a lion, with crown and sceptre and a cornucopia filled with tokens. In the middle of virtue: a winged woman with a skewer in her left hand and a laurel wreath in her right hand. On her chest the sun. On the right is Consideration. It's a woman with a passer and ruler. Her attribute is the flying crane with a stone in her paw. The print is part of an album.
  100% Made In America

  Next Day Shipping Available

  100% Money Back Guarantee

  Free Shipping On Orders Of $150+

  Use Shopify Pay to break the price down into 4 easy payments!
Usage Rights
Select Your Size