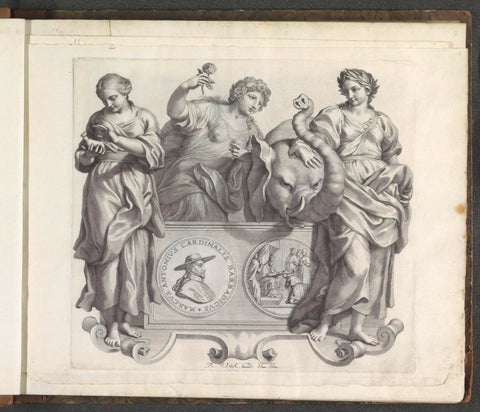 Portrait of Marcantonio Barbarigo and the Personifications of Politeness, Kindness and Meekness, Robert van Audenaerd, 1673 - 1743 Canvas Print
Pedestal in the shape of a cartouche. On top a medallion with the portrait of Cardinal Marcantonio Barbarigo on the front. On the back, the cardinal kneels before the Pope and is appointed. The pedestal is surrounded by three female personifications. On the left the personification of Politeness (Humanita). She loves a little dog. The woman in the middle is the female personification of Kindness or Publicity. On the right is Meekness: a woman with a laurel wreath on her head and her hand on the head of an elephant. The print is part of an album.
  100% Made In America

  Next Day Shipping Available

  100% Money Back Guarantee

  Free Shipping On Orders Of $150+

  Use Shopify Pay to break the price down into 4 easy payments!
Usage Rights
Select Your Size