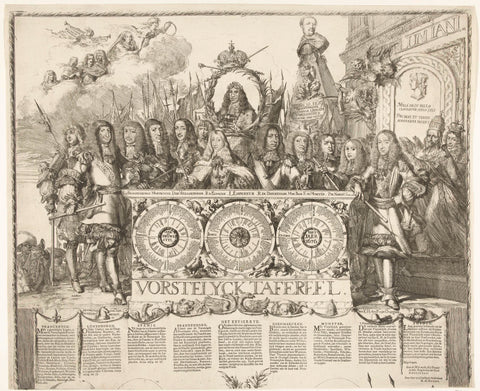 Regal scene (top half), 1676, Romeyn de Hooghe, 1676 Canvas Print
Top half of the leaf Regal scene. Almanac for the year 1676 in three circles with constellations with above it in a row the warring princes and commanders of the time. These are from left to right: the Dukes of Brunswick-Lüneburg, the Elector of Brandenburg, General Montecucculi, Villa-Hermosa, the Spanish King Charles II, the Danish King Christian V, Margrave Leopold Wilhelm of Baden, Bishop of Münster, the Stadtholder of Friesland, Prince William III, Pope Clement X and The English King Charles II. Above, a bust of emperor Leopold I and an obelisk or pyramid with a bust of Polish King John III. In the clouds the prominent people who died in 1675, including Amalia van Solms, Rabenhaupt and the vicomte de Turenne. At the bottom of 9 columns short texts in Dutch, relating to the warring parties.
  100% Made In America

  Next Day Shipping Available

  100% Money Back Guarantee

  Free Shipping On Orders Of $150+

  Use Shopify Pay to break the price down into 4 easy payments!
Usage Rights
Select Your Size