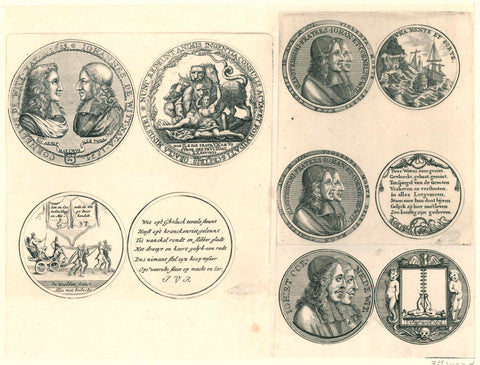 Sheet with five tokens in honour of the De Witt brothers, 1672, anonymous, 1672 - 1699 Canvas Print
Sheet with the front and reverse sides of five tokens made in honour of the brothers Johan and Cornelis de Witt, after their death on August 20, 1672. The sheet is composed of three pieces of paper that are glued together. On the left are two tokens, on the right three. The first badge shows the brothers and profil opposite each other; on the reverse side, a beast with many heads symbolizes the people who mutilated the bodies. On the front of the second badge a monarch in his triumphal carriage pulled by kings with above it a scene of the mutilation of the bodies. On the reverse side a verse of six lines signed J.V.R. The third badge shows the two brothers and profil, in succession; on the reverse side two ships that perish at sea. The fourth badge has the same portraits and a verse of eight lines. The fig badge also has the same portraits and an emblem of the corpses on the seesaw, crowned by a winged hourglass and flanked by two mournful putti. The first four tokens are shown in Van Loon, dl. III, p. 87; the last on p. 90.
  100% Made In America

  Next Day Shipping Available

  100% Money Back Guarantee

  Free Shipping On Orders Of $150+

  Use Shopify Pay to break the price down into 4 easy payments!
Usage Rights
Select Your Size