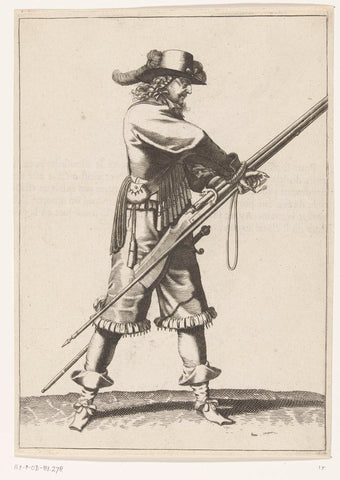 Soldaat met een musket die zijn lont overbrengt van zijn rechter- naar zijn linkerhand, ca. 1645, Petrus Rucholle, 1645 - 1647 Canvas Print
Een soldaat, ten voeten uit, naar rechts, die een musket (een bepaald type vuurwapen) en een furket (musketvork) met zijn linkerhand vasthoudt. De brandende lont in zijn rechterhand brengt hij over naar zijn linkerhand, ca. 1645. Bedrukt op achterzijde met tekst in het Frans. Vrij naar plaat 15 in de instructies voor het hanteren van het musket in de Wapenhandelinghe van J. de Gheyn. Krijgswezen rond 1600.
  100% Made In America

  Next Day Shipping Available

  100% Money Back Guarantee

  Free Shipping On Orders Of $150+

  Use Shopify Pay to break the price down into 4 easy payments!
Usage Rights
Select Your Size