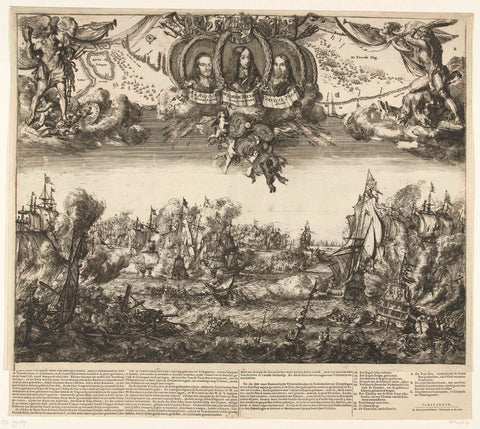 The Two Naval Battles on Schoonevelt, 1673, Romeyn de Hooghe (attributed to), 1673 Canvas Print
The two naval battles off the coast of Zeeland on the plain of Schoonevelt on 7 June and 14 June 1673. Great representation of the battles between the fleet of the Republic under De Ruyter and the combined Anglo-French fleet under Prince Rupert and Count Jean d'Estrées. At the top medallions with portraits of Willem III, Michiel de Ruyter and Cornelis Tromp. Next to it small scenes with the trip to Chatham in 1667 and the battle of Solebay in 1672. Hereby allegorical figures of the combative Nautical and Hercules. With the print a text sheet with the title and a description of the events and legends 1-26, 1-9 and A-C in 4 columns in Dutch.
  100% Made In America

  Next Day Shipping Available

  100% Money Back Guarantee

  Free Shipping On Orders Of $150+

  Use Shopify Pay to break the price down into 4 easy payments!
Usage Rights
Select Your Size