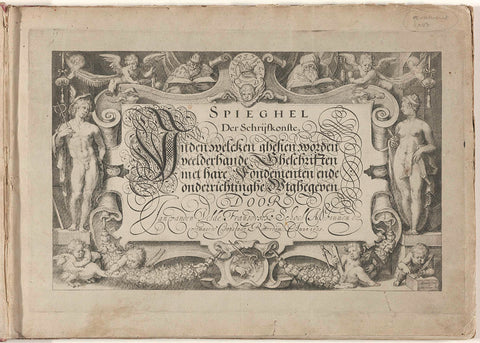 Title print with allegorical border frame and calibrated title, Jacob Matham, 1608 Canvas Print
Title print with an allegorical border frame and a calibrated title. On the left side of the title is Mercury. On the right the goddess of writing with a goose pen and a roll of paper in her hands. In the middle of a round shield with the motto: Vive la Plume. Inside, a crown with two crossed goose pens. In addition to this shield two writing older bearded men: on the left Pisistratus, king of Athens, and on the right the Greek wiser Anaxagorus. In addition, two putti write attributes and a lamp are attached. In the shield in the middle under an oak wreath and a pen above a hand pointing at an ear. To the left of it, two putti pens pull out of the wing of a goose. On the right a putto with ruler, passer and triangle and a putto that cuts a quill into a pen on a stone block with pen knife. The print is part of an album.
  100% Made In America

  Next Day Shipping Available

  100% Money Back Guarantee

  Free Shipping On Orders Of $150+

  Use Shopify Pay to break the price down into 4 easy payments!
Usage Rights
Select Your Size