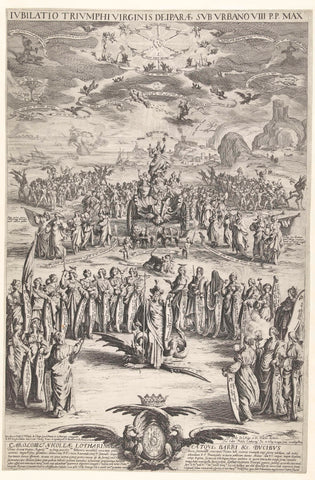 Triumph of the Virgin Mary, Jacques Callot, 1625 Canvas Print
In the foreground allegorical figures in a circle around a lady who tramples a dragon. Behind it Mary on a triumphal wagon pulled by a lion, a lamb, an eagle and a phoenix. Around her a crowd of female musicians. Left and right behind these musicians doomed groups held captive by devils. In the background a rocky coastal landscape. In heaven angels and various symbols. Here and there with the figures banderolls and shields with Latin texts. Above the performance a inscription in Latin. Under the representation the coat of arms of the Dukes of Lorraine and a caption in Latin. Print appeared on the occasion of the promotion of the Franciscan monks André de l'Auge (Ange?) and Etienne Didelot in May 1625.
  100% Made In America

  Next Day Shipping Available

  100% Money Back Guarantee

  Free Shipping On Orders Of $150+

  Use Shopify Pay to break the price down into 4 easy payments!
Usage Rights
Select Your Size