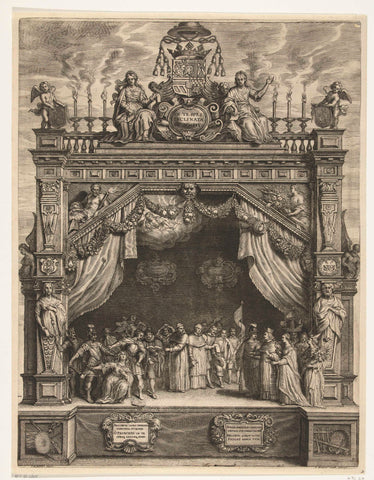 Triumphal Arch with Ferdinand of Austria and Dutch Virgin with Allegorical Figures, Schelte Adamsz. Bolswert, 1635 Canvas Print
Triumphal arch of monumental architecture with allegory on Spanish rule and the Southern Netherlands. Cardinal Ferdinand of Austria, the cardinal-infant, is taken by Minerva by the hand and surrounded by, among others, the goddesses of Peace and Abundance. A soldier as personification of War holds the Dutch Virgin captive. A man with two faces as a personification of Deception threatens the Virgin with a dagger hidden behind an olive branch. In a cartouche under a weapon on top of the architecture there is a motto: in spes inclinata recumbit. In honor of Ferdinand's entry into Antwerp, 17 April 1635.
  100% Made In America

  Next Day Shipping Available

  100% Money Back Guarantee

  Free Shipping On Orders Of $150+

  Use Shopify Pay to break the price down into 4 easy payments!
Usage Rights
Select Your Size