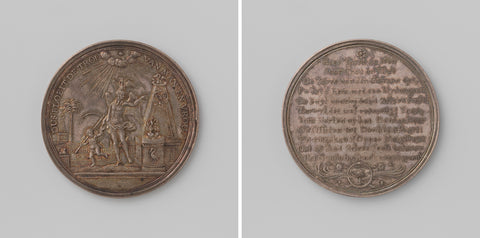 Twenty-five years of marriage of J.C. Cuyck van Mierop and Sara Cloek, Martin Holtzhey, 1764 Canvas Print
Silver badge. Front: winged Time with winged hourglass on head is carried by winged boy with scythe in hand; on the right an obelisk with inscription XXV within a cartouche; on top of obelisk nest of pelican, which feeds its young with its own blood; for obelisk an altar, on which lie two burning hearts, bound together with ribbon; based on image of stork; in background pond with two swans and fountain; on the left an obelisk with an L on base, on top a snake round, next to a palm tree; above all eye in halo within circumscription; cut-off: empty. Reverse: inscription; lace writing.
  100% Made In America

  Next Day Shipping Available

  100% Money Back Guarantee

  Free Shipping On Orders Of $150+

  Use Shopify Pay to break the price down into 4 easy payments!
Usage Rights
Select Your Size