Design Your Own Stunning Canvas Wall Displays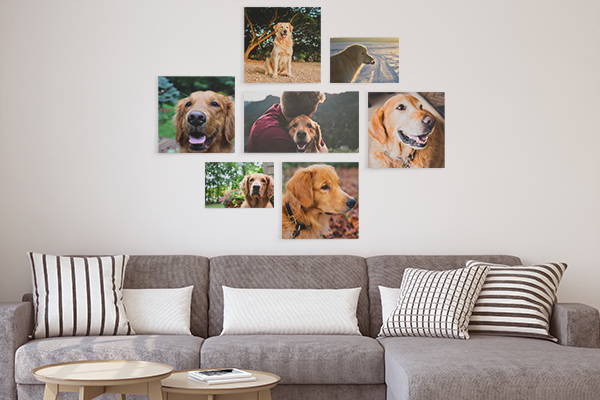 If you're looking for the best way to spice up your living room this spring, look no further than canvas wall art. Decorating with canvas prints has become such a popular style of home decor because canvas is undeniably more efficient and cost effective than traditional photo printing. Canvas can also give a photo more character and a classic "home-y" feel. 
 Also, when you go with canvas, it takes the tedious process of finding and matching frames for all of your photos right out of the equation. With a canvas print, you can take the finished product out of the box and hang right on your wall, no extra work required. This is because a canvas print has the frame included, and the photo elegantly wraps around the frame and elevates your images from the surface of the wall, making it that much more attention grabbing. Canvas prints are simply the most efficient way to display your favorite memories and moments on your own walls.
Thanks to recent advances in printing technology, we've seen a plethora of canvas printing services pop up around the industry, and it can be hard to decide on where to get the best quality prints at the best prices. If you're already at CanvasPrints.com, don't click away! You're already halfway there to getting your hands on gallery quality canvas wall art to hang in your own home. All that's left to do is upload your photo! 
We were founded in 2019 with one goal in mind - to provide the best possible canvas prints, as well as the best prices on the market. Thanks to our premium materials, made 100% in the USA, and our amazing production team of hardworking American employees, we've been able to deliver on that promise every day since then!
We decided to use only the best materials because we know that our customers entrust us with the important responsibility of printing their favorite photographs from some of their life's most cherished memories. CanvasPrints uses new, state of the art Eco-Solvent Inks on our array of Epson S60600L 60" Production Presses along with PrintFactory custom color calibration system to give life-like balances to your photos and illustrations. Eco-Solvent inks are one of the most environmentally friendly inks in production today. With two 4 color printheads, we are able to reach 98% of the visible color gamut, meaning incredible color reproduction.
The perfect canvas print starts with selecting the right type of canvas. Our custom, proprietary cotton blended canvas provides for outstanding image quality, color saturation, and durability. Many of our competitors choose to use mainly polyester canvases, a cheaper material that helps in stretching the canvas. However, polyester only allows inks to sit on the top layer of canvas, not be absorbed into it. This is where our cotton blended canvas comes in handy. Cotton can absorb the ink into its fibers, which results in a much longer lasting, non-faded print. We still retain a very small percentage of polyester to aid in stretching our canvases. 
Our commitment to quality goes further than just our canvases, we utilize environmentally friendly solvent inks, and pine wood frames as well. Solvent inks are dry much quicker, resulting in less ink loss while drying, adding to the vivid and bright colors of your canvas. Also, since our inks are water resistant, you'll be able to gently wipe away any dust, dirt, or debris that your canvas might come across.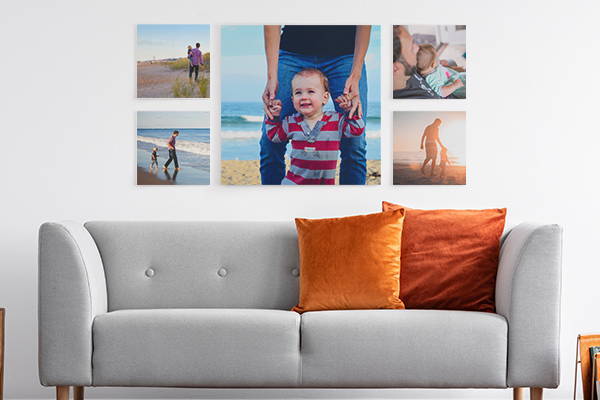 We choose to use water resistant inks to extend the lifespan of your canvas considerably. We know that not all of our canvases will be hung in perfectly clean and safe spaces. For example, many of our canvases are hung in business like restaurants, where customers and staff are always walking around and food is always present. Our water resistant inks ensure that your canvas wall art will look great no matter where it's hung, and that it will be able to withstand any minor damages. 
Finally, our pine wood frames are sturdier and even lighter than MDF board, a cheaper material that many of our competitors use. When your canvas is printed, one of our in-house craftsmen will construct a frame, hand-made to order, to fit your exact canvas size. Next, your canvas will be stretched across the frame by an automated stretching machine. This technology provides the perfect tension for every canvas we create, ensuring that there are no cracks in the ink, and that the canvas is perfectly level and taught. 
Now, all that's left to do is get your new piece of canvas wall art to your door. Our shipping department will shrink wrap your canvas, fit it with corner protectors, and place it in a box custom shaped to your canvas size. 
One you receive your canvas, all that's left to do is simply hang it up on your wall! Don't forget to snap a photo and email it to us at info@canvasprints.com to get a free $10 gift card code to use on your next canvas! Also, order any two canvases in a month, or place an order over $100, and you'll qualify for our VIP program! Our VIP customers receive exclusive discounts and deals every week. 
Our favorite thing about printing canvases is that it allows all of our customers to create custom wall art for everyday prices. No longer do you need to be a professional photographer or artist to create stunning art pieces. 
 With CanvasPrints.com, you can upload your favorite photo you took with your smartphone, and still end up with a beautiful canvas print. Believe it or not, almost any smartphone developed within the last five years or so has the ability to take great photographs, deserving of being printed large! Don't just put your favorite photos on Facebook or Instagram, only to slowly forget about them! Look at them each and every day, printed onto gallery quality canvas. 
A Canvas Wall Display from CanvasPrints.com is the most dynamic and unique way to show off your favorite photographs across multiple canvases of different sizes and orientations. At CanvasPrints.com, we offer 14 different canvas wall display configurations, each one specifically designed to bring your photos to life, and demand the attention of any viewers in the room. We find that they make great centerpieces for living rooms, and are great conversation starters. Wall displays are the perfect way to remember an entire moment or day in your life that you want to show off to all your family and friends. Ranging from a collection of 3 individual canvases, all the way to 9, we're sure that we have a wall display style to fit any area of your home, office or business. We even have a stairway wall display! Want even more creative freedom? Some of our customers even order multiple 8" x 8" canvas prints and design their own wall display! 
We think that the best use of our wall displays is to showcase a collection of related photographs all in one place, in a very unique and extraordinary way. For example, our Wildcat Wall Display would be a great way to show off your favorite wedding photo, and a collection of smaller moments from your big day around the perimeter. The Mingo Wall Display is well suited for displaying 7 of your best photographs from your recent vacation. Finally, customize a Stairway Wall Display to upload a photo of each member of your family to spice up your stairway. 
Our online wall display designer makes it easier than ever to create a stunning wall display. No hard work or editing required! Just visit our Wall Display Collection, and select a style you think would fit well in your home, and has enough canvases included for your desired amount of photos. Next just ensure that you upload each photo in your desired arrangement! Don't worry, our designer will show you exactly which canvas each photo will end up on, so you can be sure that each photo is printed on the right canvas. When ordering a wall display, make sure that you check the total size of the entire wall display. The total size of each wall display will be listed under the designer so you can see what size each individual canvas is, and the total area of the entire display after it's arranged in the according style. 


I have ordered two canvas prints from this website and they are fantastic! One is the largest size they offer and another was a custom, panoramic print. The clarity and color brilliance of the canvases is like no other website. I will continue to order from here in the future! 

 - Jaimi T. 

 
You know what they say, "The bigger, the better". And when you're talking canvas prints, it's exactly right. We love printing and shipping out big canvas prints for our customers to proudly display in their homes. For us, there's nothing better than a breathtaking landscape photo or group family photo printed large on a gallery quality canvas. At CanvasPrints.com, you can print any photo you'd like all the way up to 40 inches tall or wide! We also offer 1,000 different canvas sizes that you're free to choose from!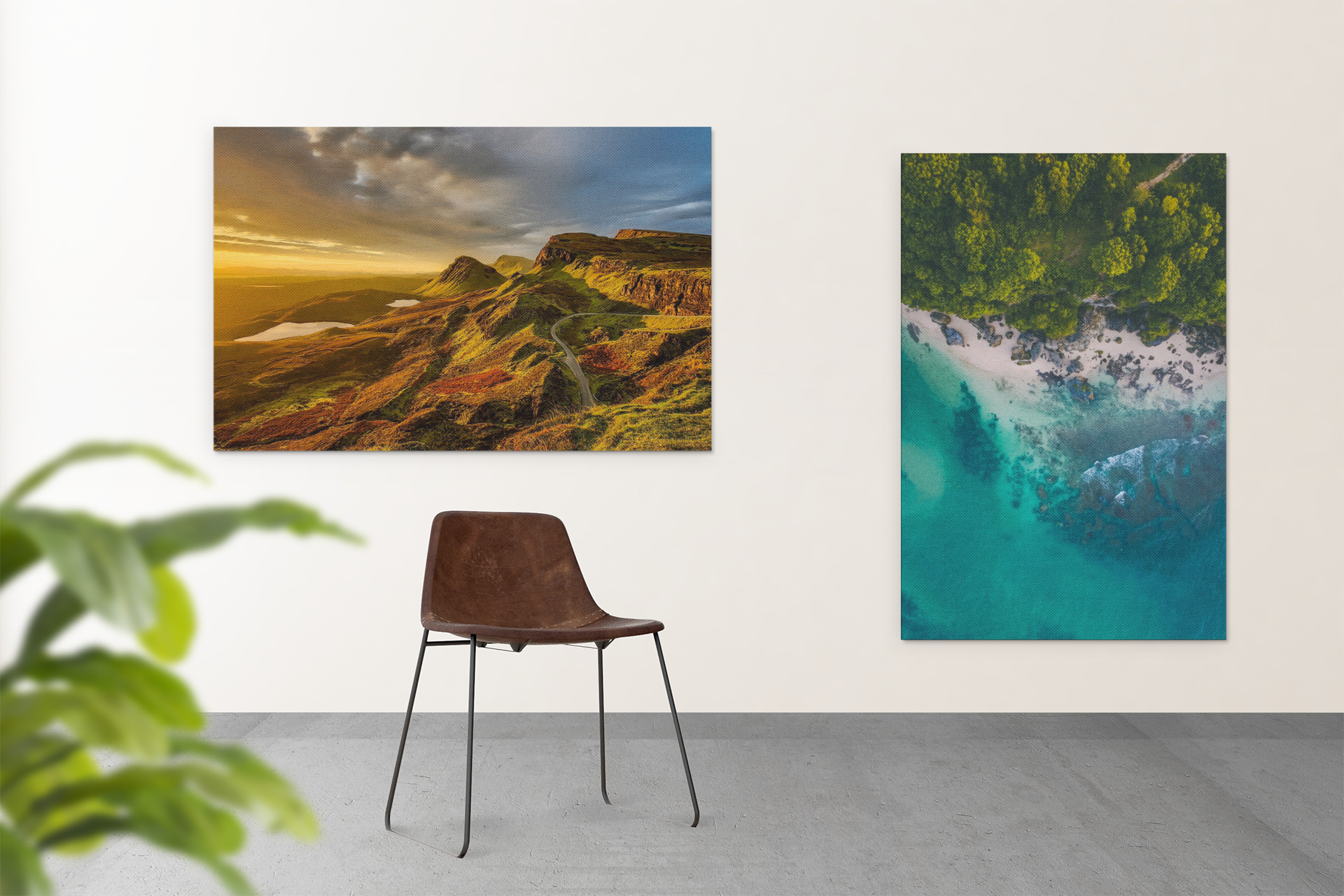 When printing large canvases, there are a few extra things to consider, first, make sure you consider all of our customization options before you check out. You might want to upgrade your canvases depth from the standard .75 inch to the deluxe 1.5 inch depth. This will make your canvas a bit more elevated from the wall and stand out even more, something that is recommended for larger canvases. Secondly, if you're looking for the classic canvas look where your image wraps around the frame, you're already good to go! However, we can also wrap your image in black, gray, white, or even mirror the image. Also, if you're a professional artist or photographer, we have two options that you should consider. First, you can request a digital proof of your canvas so you can see exactly what your image will look like as the final product before it's even created. 
Also, if you're planning on sending these canvases directly to a client or customer, select blind shipping! This will remove any branding from CanvasPrints.com from the packaging and the print itself, so your customers can focus solely on your outstanding work. Finally, we have a premium hanging kit available for our customers that truly want to after the gallery style look. Our premium hanging kit provides a professional inlaid wire within the frame. However, all of our canvas prints come standard with our sawtooth mounted hanging kit, which is plenty sturdy itself. 
How To Hang Canvas On A Wall
Speaking of hanging canvases, one of the best parts about our custom canvas wall art is how easy it is to hang on your wall. Unlike traditional framed photos, you can unbox your canvas print and have it hanging in just a few minutes! Even if your canvas has our standard sawtooth hanging kit, or the premium hanging kit, the process is relatively simple for both styles. When you first receive your canvas, hold it up on the spot you've been planning on hanging it. If possible, have a friend take a look while you're holding it against the wall, and switch positions. This will be a good way to get a feel of exactly where you want your canvas to hang. Test out different heights on the wall, and maybe other spots around your house! Once you've decided on a good spot. Make a small mark on the wall with a pencil so you can get your canvas hung perfectly the first try. Next, grab a hammer and a nail and gently hammer a nail into the mark you've made. Make sure to leave enough space between the wall and the nail for the sawtooth or wire to catch onto. Now, gently lower your canvas onto the nail! Once it's secure, make small adjustments to ensure that your canvas is level. And you're done, all that's left to do now is show it off to your friends and family. Just make sure to tell them you got it from CanvasPrints.com! 
---
← Older Post Newer Post →